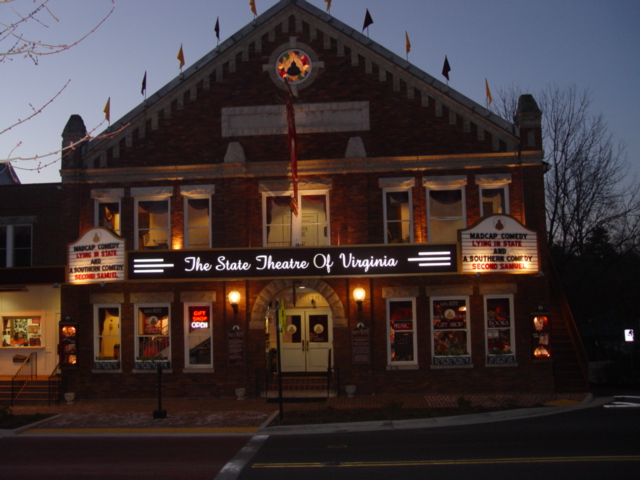 The town of Abingdon is chalk full of haunted hotspots but in this post we will focus on one of the most well known establishments in the town; the Barter Theater. The Theater is still in operation today, as it holds numerous plays throughout the year. But, no 170 year old theater would be complete without a few ghost tales to go along with the singing and buzzing of local actors and actresses. The theaters official site (linked at the bottom of this article) goes into detail about this wonderful establishment.
The Barter Theatre building was constructed in 1831 as a new location for Sinking Springs Presbyterian Church. The earliest theatrical event known to occur here was a production of the Virginian on January 14, 1876, the proceeds of which were used for building repairs. In 1890, the Sons of Temperance transferred the building's title to the Town of Abingdon , to be used as a town hall for the benefit of the citizenry.




In addition to offices, the town used the building as a fire hall – hence the fire alarm on the roof that sounded as needed at any time, day or night. When the fire siren sounded during a Barter performance, the actors were instructed to freeze their position on stage and to resume the action when the alarm concluded. The alarm remained on the building until 1994 when the fire department went to a system of electronic communications to alert fire fighters.




Many of the interior furnishings in the theatre are from the Empire Theatre of New York City. Robert Porterfield learned that this New York City theatre, constructed in 1875, was slated for destruction. Porterfield had one weekend in which to carry away furnishings and equipment for use at Barter. He came away with $75,000 worth of seats, lighting fixtures, carpeting, paintings, and tapestries. The lighting system at the Empire, designed and installed by Thomas Edison, was used at Barter Theatre through the mid 1970's.
Tri-Cities Paranormal investigated the Barter Theater and broke down the hauntings a little further. Their findings are also linked at the bottom of this page.
The Barter Theatre, which is home to two spirits. One is said to be the founder, Robert Porterfield, who brought unemployed actors from New York to start the theater during the Great Depression. Although Porterfield died in 1971, actors have claimed to see him in the audience. Another spirit, alleged to be malevolent, has been said to chase actors from dressing rooms.






Supposedly, there was a ghost of a confederate war soldier haunting the premises. According to legend, if he showed you his wound, then you would be dead within 48 hours!
The theater has been through a lot in its 170 year history so if you're looking for something paranormal, the Barter Theater would be a good place to start. However, if you just want to take in a play, well then this would be the place for you as well.
Address
127 West Main Street
Abingdon, VA 24210-2809
(276) 628-3991
Links